The newest Emerson poll in Michigan finds former Vice President Joe Biden still leading the Democratic primary in the state with 34%, followed by Senator Bernie Sanders at 28%. Compared to Emerson's March poll of Michigan voters, Biden's support has shrunk from 40%, and Sanders has gained 5 points from 23%. Senator Elizabeth Warren, who was at 11% in the state in March, is now in third at 19%. Mayor Pete Buttigieg is at 8%, Senator Kamala Harris, who was at 12% in the state in March, is now at 3%. (n=454, +/-4.6%)
With voters in the 18-29 age range, Sanders holds a very strong lead with 73% of the vote, and competes with Warren for the 30-49 year olds, with both Senators tied at 28%. Among those over 50, Sanders struggles to take 10%. Voters over 50 are heavily breaking for Biden, who gets 53%
Spencer Kimball, Director of Emerson Polling, noted that "in 2016, Sanders was able to shock the political establishment by winning Michigan, and it looks like his base of youthful support positions him do it again on March 10th."
When asked if Secretary Hillary Clinton should run for president again in 2020, 70% of Michigan Democrats said she should not run, 18% said she should, and 12% were unsure.
The majority (50%) of Michigan voters disapprove of the President, compared to 43% who approve. 47% support impeaching Trump, and 43% are in opposition. In the Republican primary, President Trump has a strong lead over other candidates, with 92% of the vote.
Michigan Governor Gretchen Whitmer has a 38% disapproval rating, with 31% approval, 27% with no opinion, and 4% who have never heard of the governor. She struggles in the Flint region of the state, where her approval is underwater at 38% disapproval and 33% approval, while the Detroit area is still supportive with 38% approval and 24% disapproval. In a follow-up question about the Flint Water Crisis, 66% of voters said they think state and local officials should be held criminally responsible, while 11% did not and 23% were unsure.
In general election matchups against the President, leading Democratic candidates Biden, Sanders, and Warren all lead Trump by a magnitude that is outside the margin of error.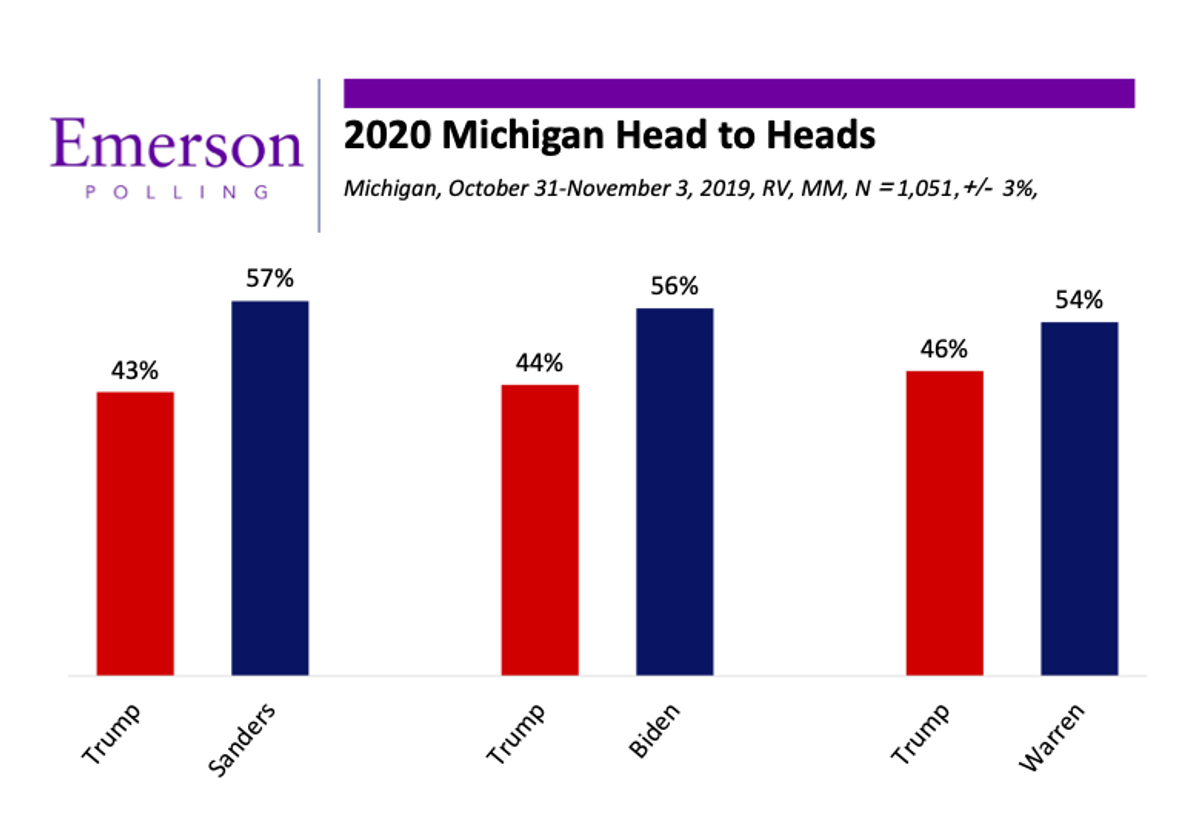 In the upcoming Senate election, the incumbent Democratic Senator Gary Peters holds a lead above Republican candidate John James, 46% to 40%.
The plurality of voters (27%) say the economy is the most important issue in deciding their vote for president, followed by health care (21%), and social issues (19%).
When voters were asked which health care policy they support – Medicare for All was the most popular option at 36%, followed by a public option at 21%. 18% of voters want to keep things as they are, 14% want something else, and 11% are unsure. Medicare for All is the leading option for Democrats with 58%. Independents are split between a public option (26%), something else (25%), and Medicare for All (21%). A plurality (27%) of Republicans want to keep things as they are, followed by 24% who want a public option, and 22% who want Medicare for All.
Caller ID
The Michigan Emerson College poll was conducted October 31-November 3, 2019 under the Supervision of Assistant Professor Spencer Kimball. The sample consisted of registered voters, n=1,051, with a Credibility Interval (CI) similar to a poll's margin of error (MOE) of +/- 3 percentage points. The data was weighted based on 2016 voter model of ethnicity, age, education, region. It is important to remember that subsets based on gender, age, party breakdown, ethnicity and region carry with them higher margins of error, as the sample size is reduced. Data was collected using both an Interactive Voice Response (IVR) system of landlines only (n=669) and an online panel provided by Amazon Turk (n=382).